We rejoice in the Lord.
Worship is a joyful experience at Bethel-Bethany.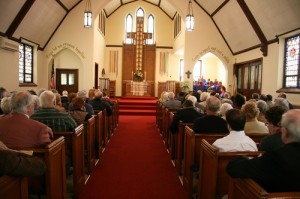 We Open to the Spirit with one another in song and prayer.
We Listen to the Spirit -where we seek and respond to the Word and the will of God. Church services are lively and refreshing, and Pastor Thad's thought provoking and engaging sermons are truly inspired. Congregation members regularly participate in worship services in a variety of ways, such as reading the weekly scriptures, serving as ushers, teaching children, and watching our youngest members during worship.
Once a month we Celebrate Holy Communion – all who seek the love of God are invited to share.
At the close of service we Respond to the Spirit and offer our time and talent to further the mission of the UCC church – "God is Still Speaking".
Throughout the year, Bethel-Bethany celebrates baptisms as families desire to have children or adults baptized, confirmation of young people, welcomes new members throughout the year, and Pastor Thad officiates at weddings and funerals.
Taizé Worship
During the year, we offer a Taizé Prayer worship. Come and experience a thoughtful, prayer centered service on a weeknight. Check the calendar for our next Taizé Worship.